Our rooms

In the breakfast room daily a comprehensive breakfast will await you, that you can start your day cool starched. In addition this room will be also used of our guests for gaming nights and other corporative activities.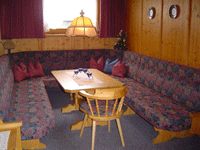 As special highlight we can provide for our "fans of television" an extra TV room. This room is also perfect suitable as comfortable recreation room for all of our guests young and old (gaming- and Internet room).


All accommodations dispose of a bathroom with shower and toilet, cable TV, kettle and coffee dishes. Furthermore all accommodations have an own balcony, that you can enjoy the nice view to our beautiful Tyrolean mountains.

Brand new in our house is a new installed Wireless LAN Internet network, which can be used for free from all of our guests. More detailed information for using the Internet will be given at your stay.